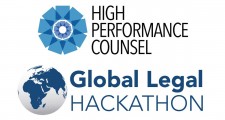 News
•
updated: Feb 17, 2018
High Performance Counsel (HPC) will become a Media Partner of the Global Legal Hackathon and provide feature coverage of the winning contestants.
New York, NY – (February 17, 2018) – HIGH PERFORMANCE COUNSEL™ announced its decision to support the Global Legal Hackathon and to provide feature coverage of the winning contestants. The Global Legal Hackathon is a new initiative designed to harness legal innovation globally. The event will encompass activities in 40 cities across 20 countries.
"We are delighted that High Performance Counsel is supporting us in this way," said Aileen Schultz, co-founder of the Global Legal Hackathon. "We are committed to working with like-minded people and organizations in a collaborative and inclusive manner to encourage and support the development of a new generation of legal solutions and improvements."
David Kinnear, Founder & CEO of High Performance Counsel Media Group, said: "The mission of the Global Legal Hackathon is so timely and aligns closely with our own mission in telling the stories of the next ten years in the legal industry. It coincides nicely with our recent announcement of the #FoundersDozen series – following the success of our #BakersDozen and #Bakers18 initiatives. Our publication is intended to reflect the changing face of the legal sector, which unquestionably involves technology – and the fears and opportunities that technology highlight. We're excited to collaborate on this exciting initiative highlighting legal technology founders and legal industry innovation."
ABOUT HIGH PERFORMANCE COUNSEL
HIGH PERFORMANCE COUNSEL™ is a leading legal industry publication featuring the individuals, organizations and solutions driving innovation and change in the modern legal industry over the next decade. Delivering high quality thought-leadership and commentary, it is published online and via eMagazine formats. It has seen a significant uptick in interest in both the technical and business leadership issues raised by this sector evolution and keen readership support in the thought-leadership formats used to cover it. The #BakersDozen and #FearlessLaw interview series have proven very popular – bringing forward the leadership experience and perspective of senior figures in the sector. For more information, visit www.highperformancecounsel.com.
ABOUT THE GLOBAL LEGAL HACKATHON
The Global Legal Hackathon engages law schools, law firms and in-house departments, legal technology companies, governments, and service providers to the legal industry – across the globe. It will bring together the best thinkers, doers and practitioners in law in support of a unified vision: rapid development of solutions to improve the legal industry, world-wide. Participants from all backgrounds and industries are welcome to join the Global Legal Hackathon, including law firm partners and associates, in-house counsel, IT professionals, entrepreneurs, students, and tech innovators both inside and outside of the legal industries. To learn more about participating in the Global Legal Hackathon, visit globallegalhackathon.com.
Share: