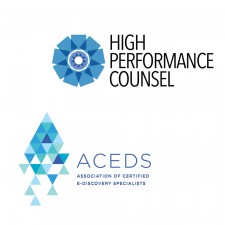 High Performance Counsel announced today a legal media partnership with ACEDS, The Association of Certified eDiscovery Specialists
New York, NY, December 11, 2017 (Newswire.com) - High Performance Counsel™, a leading legal industry publication delivering high quality thought-leadership and commentary announced today its new legal media partnership with ACEDS, The Association of Certified eDiscovery Specialists (ACEDS), a BARBRI Professional Association.   
"We are delighted to announce this media partnership and provide High Performance Counsel's leadership perspectives to the entire ACEDS organization and our extensive membership," said Mary Mack, ACEDS Executive Director. "This media partnership represents ACEDS's commitment to both the informational and career needs of our membership as the legal sector shifts gears toward innovation and change. "
David Kinnear, Founder & CEO of High Performance Counsel Media Group, said, "We appreciate the friendly professionalism of the ACEDS leadership team, which has made this decision so easy for us. We share their passion for helping ACEDS members explore and embrace the future through the top legal industry thought-leadership content we provide. As we look into the future of the legal industry, we see a vast new significance in technology, technical qualifications and non-typical lawyer skillsets. As such we identify ACEDS as being a cornerstone of the legal industry and our natural partner for what we see emerging. Our collective experiences and voice can be a navigation light for countless professionals in the field who are leveraging technology and navigating legal innovation.
About ACEDS
The ACEDS Professional Association, part of leading legal education provider BARBRI, is a membership association committed to promoting and verifying eDiscovery skills and competence through training, education, and certification to organizations and individuals. The association's goal is to help professionals and organizations reduce the costs and risks associated with eDiscovery, and realize the advantages of performing it effectively. ACEDS awards the Certified eDiscovery Specialist (CEDS) credential, which is held by practitioners at Am Law 200 firms, government agencies, including the U.S. Securities and Exchange Commission and U.S. Justice Department, and some of the largest corporations in the world. For more information, visit www.aceds.org.
About High Performance Counsel
HIGH PERFORMANCE COUNSEL™ is a leading legal industry publication featuring the individuals, organizations and solutions driving innovation and change in the modern legal industry over the next decade. Delivering high quality thought-leadership and commentary, it is published online and via eMagazine formats. It has seen a significant uptick in interest in both the technical and business leadership issues raised by this sector evolution and keen readership support in the thought-leadership formats used to cover it. The #BakersDozen and #FearlessLaw interview series have proven very popular – bringing forward the leadership experience and perspective of senior figures in the sector. For more information, visit www.highperformancecounsel.com.
Contact:
Kaylee Walstad
​Director of Strategic Partnerships ACEDS
​kwalstad@aceds.org 612.804.3244
Harry Buck
​High Performance Counsel Media Group
917-937-6898​
harry@highperformancecounsel.com
Source: High Performance Counsel
Share: