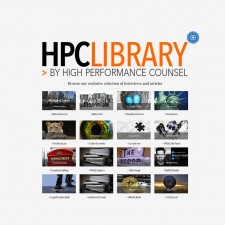 News
•
updated: Mar 8, 2018
High Performance Counsel is pleased to announce the opening of its new online library #HPCLibrary - becoming the destination of choice for legal thought-leadership in the modern legal industry. #HPCLibrary may be accessed at www.hpclibrary.com
High Performance Counsel was created to tell the story of the next ten years in the legal sector – often expressing this through the personal perspective and experience of some of the top thought-leaders in law. As such, the publication highlights the individuals, organizations and solutions driving change and innovation in the legal industry.
The creation of #HPCLibrary is a natural next step, providing a robust platform for industry participants to find and share valuable thought-leadership and information resources with a growing audience of professionals interested in the legal industry's future. #HPCLibrary will provide access to the HPC catalog of content, including iconic pieces like #Bakers18, together with prior interviews in the #BakersDozen series. Interviews from the new #FoundersDozen series will also be made available for download in #HPCLibrary.
"HipCounsel's library provides a bird's eye view of the most interesting minds and hearts addressing vital issues in access to justice, technical innovation and changing business models. Inspiring, provocative and timely." - Mary Mack of ACEDS, the Association of Certified E-Discovery Specialists.
"Until now, finding stories of individuals who have driven innovation in legal services has been a hit-or-miss proposition. With the HPC Library, you can go to one place and read how others have overcome obstacles to reinvent legal services. This is a great resource for those looking to take their practices to the next level." - Kenneth A. Grady, Adjunct Professor and Research Fellow, Michigan State University College of Law.
"David Kinnear in his brilliant style is shining the light on so many of our legal sector contributors, touching many areas and educating us all on this thing called 'Future Law' – his library is a go to as a fast, stunning wealth of information." - Kaylee Walstad, Director of Strategic Partnerships, ACEDS.
"There's a great deal of legal press these days. David Kinnear has applied his industry expertise and keen eye to curate a library that enables readers to tap into some of the legal industry's top thinkers and doers. It's a great one-stop resource." - Mark A Cohen, CEO of LegalMosaic.
David Kinnear, Founder and Publisher of High Performance Counsel said: "We are very delighted with the opening of #HPCLibrary and the easy access this brings for everyone to best-of-the-best thought-leadership in law. Some of the best practitioners and influencers in the modern industry are reflected here – and we've simply made it easier to stay on top of what they have to say about change in the legal industry. We hope you like it."
ABOUT HIGH PERFORMANCE COUNSEL
HIGH PERFORMANCE COUNSEL™ is a leading legal industry publication featuring the individuals, organizations and solutions driving innovation and change in the modern legal industry over the next decade. Delivering high quality thought-leadership and commentary, it is published online and via eMagazine formats. It has seen a significant uptick in interest in both the technical and business leadership issues raised by this sector evolution and keen readership support in the thought-leadership formats used to cover it. The #BakersDozen and #FearlessLaw interview series have proven very popular – bringing forward the leadership experience and perspective of senior figures in the sector. For more information, visit www.highperformancecounsel.com.
Share: